4Xport – Export Accelerator for SMEs in Kenya
Introduction and Background
Truvalu Kenya is developing a program to prepare Kenyan agribusinesses to export and access the European market. The program focuses on the Dutch market as a gateway to Europe, as the Netherlands is a strong trading partner of Kenya.
To fully realize the potential of some companies in the agri value chains, one of the best opportunities appears to be entering the export market. However, many entrepreneurs are limited in their export (market) and international market knowledge. The biggest challenge for such promising agribusinesses is the lack of knowledge needed to be export market ready. This includes knowledge about export regulations, certifications, quality requirements and packaging regulations, for example.
Barriers
Truvalu Kenya recognizes a number of barriers faced by local SMEs in the context of exporting. Typically, there are three areas of concern: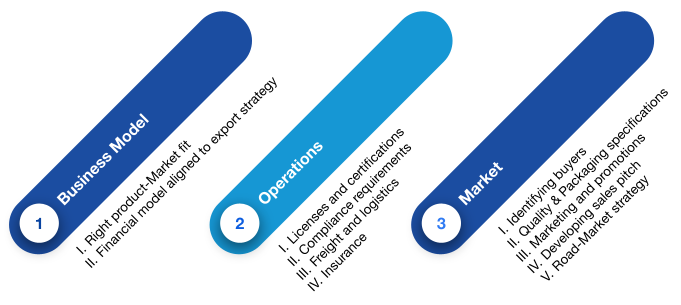 Truvalu Kenya is developing a program that addresses these stumbling blocks experienced by established entrepreneurs and bringing together export experts to help SMEs selected for the program to become export ready and access the European market for their products. The program will focus on the Dutch market as the entry point to Europe as Netherlands is a strong trade partner to Kenya.
Why the European Market?
The European Economic Area (EEA) union member Countries (EU & EFTA) operate as one single market, known as the internal market. It means that once the products enter the European market, they have access to all countries without going through additional customs procedures moving from one EU country to another. Export requirements have been harmonised among European Union members by common European legislation implying a great potential for Kenyan SMEs to increase their market demand.
The 4Xport program
The program consisting of three phases aims to support at least 15 thoroughly selected Kenyan agri-SMEs who are active in the following value chains: fruits and vegetables (processed or fresh), nuts, oils (cosmetic, edible, essential) as well as spices and herbs. At first, the Ready 4Xport phase focuses on understanding the EU market in terms of demand and characteristics as well as regulations related logistics, packaging, certifications et cetera. This will enable them to make an informed decision whether or not to export. Our expectation is that at least 8 out of the 15 SMEs qualify to enter the European market and sell their products through our market-linkage support. In the second phase, called the Set 4Xport phase, companies will a.o. validate their assumptions, size the market and identify potential customers and partners. In the Go 4Xport phase companies will refine their value proposition for the EU market, develop a sales pitch and reach out to potential clients with the aim to secure their first export order.
Example SME
A typical example of a company in Kenya that could qualify for the 4Xport program is The Big Thundernuts which used to be a trader of grade-B macadamia nuts. These nuts were sold to processors for oil extraction. With an investment from Truvalu, the company set up its own processing facility and now requires additional support to export the macadamia oil to potential customers in Europe.
The approach
30 – 38 persons (at least 2 per company) will participate in the program that will involve interactive sessions, expert training, peer-to-peer learnings, mentorship and coaching among others. Monitoring and Evaluation (M&E) is considered crucial during the entire process, starting with a baseline, continuously monitoring the intermediate results, experiences of participants and experts involved and evaluating the chosen model. The program is expected to run for 12 months in 3 phases as shown below: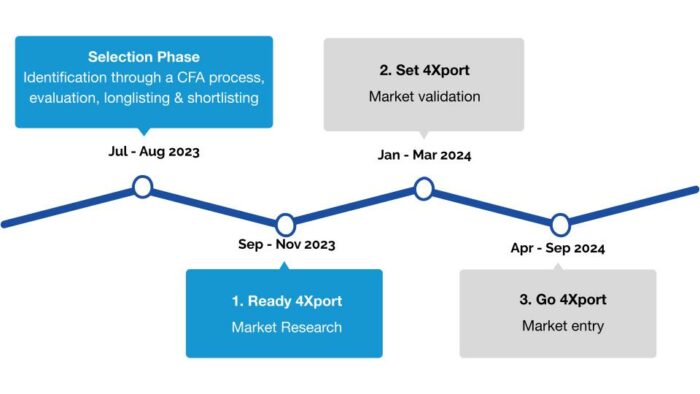 Impact
By offering a tailored training, market linkage and trade finance solutions, the ultimate impact is realised in terms of: job creation and growth of the local economy. Through 4Xport we aim to contribute to strengthening the trade relations between Kenya and the European countries. In addition, the European public gets to enjoy products from across Kenya.
Consortium
Truvalu Kenya being the lead partner has joined forces with Private Equity Support and WorldStartup to facilitate the 4Xport program. The three partners have a strong track record working with agri-SMEs and two have presence both in Kenya and in the Netherlands.
Truvalu (holding company of Truvalu Kenya) is an impact investment company that co-entrepreneurs with local agribusinesses assisting them to scale up their businesses by offering Capital, Business Development Support, Strategic Advice and Access to networks, markets, knowledge and technology.
           Role and Responsibilities: Recruitment and Selection as well as Program Management
Private Equity Support is a Kenyan consulting firm that works with SMEs across Africa to get them investor-ready as part of the capital raise process or as a growth repositioning strategy.
           Role and Responsibilities: Marketing and Communication as well as Facilitation of trainings
WorldStartup is a Dutch organisation creating communities, offering support programmes and unlocking resources for changemakers to grow their business and foster a positive impact on society and nature)
           Role and Responsibilities: Curriculum Development
Partnership
Truvalu Kenya aims to pilot this 4Xport program in Kenya and expand to other countries at a later stage. For this pilot, we are looking for seed capital (one-off) to develop the curriculum and the program itself and execute it for the first time. For this, we expect to require a total budget of € 300,000. This budget will cover the costs of the development of the program and the curriculum as well as the execution of the program itself (including trainers, facilitation, logistics et cetera).
Due to its very nature, the Ready 4Xport phase (including recruitment and selection) remains dependent on grants. However, once we have achieved success and scale we aim to finance the Set 4Xport and Go 4Xport phases through sales commissions and fees for services. By doing so, the required grant funding to run the 12-month program for one cohort will in the long run be limited to only € 120,000.
To ensure the success of the program, Truvalu Kenya is seeking partners who share our vision of empowering agribusinesses and promoting sustainable economic growth. We are eager to explore areas of collaboration and funding. With your support, we can provide agribusinesses with the resources and guidance they need to overcome export barriers and tap into the high-potential European market and consequently increase their impact.
Truvalu Kenya invites your organisation to partner with us in this important endeavour, and together, we can create a brighter future for agribusinesses and communities across the region.